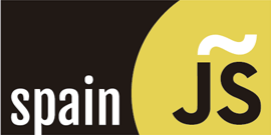 Un año más, los días 5 y 6 de Julio se ha celebrado el evento SpainJS 2013, esta vez en la Universidad Pontificia de Salamanca (Madrid). Se trata de una conferencia de desarrolladores de JavaScript con un enfoque internacional, con el inglés como lengua oficial.
For another year, on July 5th and 6th was held SpainJS 2013, this time at the Pontifical University of Salamanca (Madrid). It's a JavaScript developer conference with an international focus, with English as the official language.
Al igual que hice el año pasado, recopilo los links a las slides de las charlas, que también se pueden encontrar en su página correspondiente de Lanyrd.
As I did last year, I collect the links to the slides of the talks, which also can be found on the corresponding page of Lanyrd.
Talks:
Workshops:
Edit: Reviews
Me parece genial que se promuevan iniciativas como ésta, y con el enfoque internacional que tiene. Espero que siga muchos años, y espero también poder asistir en un futuro.
I feel it's great that such initiatives are promoted, and also the international focus it has. I hope it continues for many years, and I also hope to attend in the future.
Muchas gracias a los organizadores, a todos los ponentes, y a todos los asistentes que hacen posible que estos eventos sean viables.
Thank you very much to the organizers, all the speakers and all the attendees who make it possible for these events to be viable.